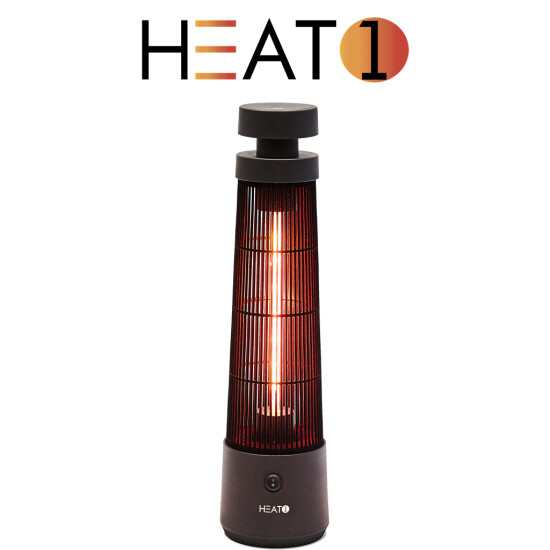 Patio heater HEAT1 ECO high-line under table model "Cone" 1200 W, black
212-371

HEAT1 ECO high-line patio heater under table model "Cone" in a modern design that makes the heater a piece of furniture. The "Cone" model for placement under your garden table is perfect for ensuring a good warmth, so you can enjoy nice, summer evenings. This HEAT1 patio heater heats up 360 degrees with a shortwave, infrared ultra low glare technology. The patio heater simply needs to be connected to power and it is ready for use. The model can easily be moved around as long as there is access to power. The bottom and top are made of powdercoated steel and the black tube is made of aluminium.
There is a built-in, anti-tilt function which means that the power is interrupted if the patio heater overturns and the power is restored the moment the patio heater is raised again. The Cord is stored elegantly in the bottom of the patio heater. Model "Cone" has an elegant, soft touch on/off button. A cover can be purchased as an extra accessory.
Incl. 180 cm cord. The cord is elegantly hidden in the bottom of the patio heater.
Application: Indoors and outdoors.
All HEAT1 patio heaters have 5 years of warranty.
PRODUCT WEIGHT & PACKAGE DIMENSIONS
Item Number
212-371
Net weight
2.8 kg
Gross weight
3.5 kg
Volume
0.035926 m3
Gross depth
0.23 m
Gross width
0.22 m
Gross height
0.71 m
Specifications
DB-nr.
2213896
EAN
5705858717685
Height
62.5 cm
Width
16 cm
Type
Table / under table model
Effect
1200 Watt
Tube
Halogen ultra low glare
Energy
92%
Power
230V - 50Hz
Area of effect
4-6 m2
Start-up time
2 sec.
IP
55
Function time
7000
CO2 emission/hour
1 kg
Approved according to
CE, LVD & EMC
Brandname
HEAT1
Color
Black
Material
Aluminium
Surface
Powder coated
Amount per pallet
35 pcs